Wine Reviews
"The combination of professional and peer reviews creates a robust source of trusted wine recommendations from a wide variety of palates."

Why go shopping alone? Now, you can access Wine Reviews from a variety of talented writers within the free Hello Vino iPhone app!
The new "Reviews" section now includes wine reviews and recommendations in a mobile-friendly format, while also linking to the respective authors' web sites. You're also able to interact with the authors, share the wines, and save your favorite reviews within the app. Click the images below for a closer view.
Contributors
Contributors include Certified Specialists of Wine (CSW), Certified Wine Educators (CWE), sommeliers certified by the Master Court of Sommeliers, and a wide variety of talented wine writers who share their passion and enthusiasm for wine through web sites and blogs.
Elizabeth Schneider - Wine for Normal People
Elizabeth Schneider is a Certified Specialist of Wine (CSW) with the Society of Wine Educators and also holds certifications from the Court of Master Sommeliers. Her unique approach to wine writing makes the subject matter easy and accessible, as indicated by her "Wine for Normal People" blog title. Elizabeth's thorough wine reviews mix education and entertainment, delivering an engaging and informative experience to the reader.
Joe Roberts - 1 Wine Dude
Joe Roberts is a Certified Specialist of Wine (CSW) with the Society of Wine Educators and also holds certificates from the Wine & Spirits Education Trust (WSET) based in England. Known as the "Wine Dude", Joe helps to demystify the topic of wine through his 1WineDude blog and his lucid, accessible style of writing. In addition to his in-depth pieces on topics such as wine products, travel, and winery profiles, Joe offers "mini wine reviews" through his @1WineDudeReview Twitter feed, where he provides concise reviews of wines using an A-F grading system.
Ward Kadel - @drXeNo of Vinopanion/WineLog.net
Ward Kadel (also known as Dr. XeNo) grew up in both the Napa Valley and Sonoma, and is the West Coast Ambassador and staff blogger for WineLog.net. Through his Vinopanion blog, Ward delivers a wide variety of wine-related content including reviews, event coverage, new products, and regional profiles. In addition, Ward has reviewed hundreds of wines at WineLog.net, each with detailed tasting notes and descriptions to help you discover hidden gems.
Thea Dwelle - Luscious Lushes
Thea Dwelle's blog was born out of her love of all things wine. LusciousLushes.com revolves around great wines she has discovered as well as upcoming wine events in the San Francisco Bay area. Thea primarily focuses on learning and discussing new wines, while profiling the wineries on her trips through wine country. Thea works in software by day, and by night she is a "wine brat" who seeks to try new wines, expand her palate, and have a conversation with you.
Steve Paulo - Notes from the Cellar
Steve is a Californian, a Web Developer, and a wine blogger who runs Notes From The Cellar - a blog that focuses primarily on tasting notes. Using his own tried-and-true grading system, his reviews range from the "fan-friggin-tastic" A+ rating to the "avoid like the plague" F rating. Steve combines a clever and entertaining writing style with in-depth tasting notes to help steer readers towards excellent experiences with wine.
Bill Daley - "Uncorked" Wine Column in the Chicago Tribune
Bill Daley is a food and wine critic with the Chicago Tribune. He writes a weekly wine column called "Uncorked" for the Tribune's food section, Good Eating. In tackling the food and wine beat, Daley also covers chefs and food personalities, cooking techniques and trends. A weekly segment on food and wine airs on WGN-AM. Previously, Bill was a food writer and restaurant reviewer with the San Francisco Chronicle and spent 11 years at the Hartford Courant, where he ultimately became the Sunday magazine's restaurant reviewer. He has been recognized twice for restaurant criticism by the Association of Food Journalists and has served as that organization's president from 2002-2004.
Josh Wade - Nectar Wine Blog
Josh Wade publishes reviews on NectarWineBlog.com that focus on wines from the Spokane, Washington region, using his Stuff, Swirl, Sniff, Sip, Score method (yeah, Josh breaks it down). He is also known to "take to the streets" for video reviews of local businesses and wine consumers, while also reviewing the wines on camera. Josh's reviews can also be found on CellarTracker.com and Corkd.com, where he is also a contributing writer. Josh states that his reviews are offered to "provide a general experience of the wine to assist people with making buying decisions."
Pamela Heiligenthal - Enobytes.com
As Enobytes co-founder, Pamela left Harvard to pursue opportunities in the wine and restaurant industry. She spent a number of years working as a Restaurant Manager and Wine Buyer in Boston and San Francisco before working directly with the California wine industry. In 1996, she completed her introductory level Master Sommelier certificate examination from the Court of Master Sommeliers in Kapolei, HI and began judging for Anthony Dias Blue's San Francisco International Wine Competition. In 2006, she launched Enobytes.com with Marc Hinton "to educate and share our passion and knowledge of wine and food with our readers across the globe."
Many more to come!
Add Your Reviews to Hello Vino
If you would like to gain exposure for your wine reviews, blog, or wine-related web site, please send us a message using the form below. Please include your contact information and specific links to reviews that you would like to have considered. Thank you!


Loading @HelloVino's Favorite Tweets...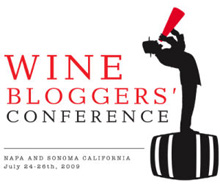 Hello Vino is proud to donate to the Wine Bloggers Conference Scholarship Fund to help online wine writers attend the 2010 conference in Walla Walla, WA.

We would like to thank Vintank, a digitial think tank for the wine industry, for facilitating the discussions with the talented contributors to the Wine Reviews section of Hello Vino.