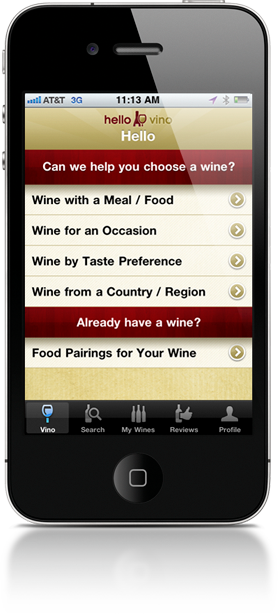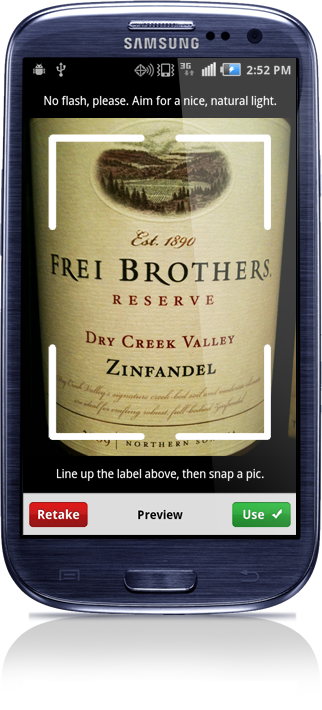 View Press Release
App Features
Recommendations
You don't have to know anything about wine to use Hello Vino. The app uses a simple question-and-answer process to suggest the perfect bottle of wine for meals, special occasions, or your taste preferences.
Never Forget a Wine
Let's face it - sometimes it's not so easy to remember that delicious bottle of wine from the night before. Using Hello Vino, you can snap a pic and take a quick note so you never forget another wine.
Label Image Recognition
Now you actually have a good excuse to pick a wine by its label. Hello Vino's image recognition feature lets you snap a pic of a wine label to get the wine's tasting notes, ratings and reviews.
Search for Wines
Interested in a particular bottle of wine? Use the search features in Hello Vino to read the wine's tasting notes, ratings, and even food pairings.
"Normal" Wine Reviews
Get exclusive access to Certified Sommelier Elizabeth Schneider's "quick wine reviews" that break down widely available wines that you can find in your local store in a "normal" way without the wine "geek speak" (audio format, too!).
Food & Wine Pairings
Whether it's pepperoni pizza, filet mignon, or even mac & cheese, Hello Vino will give you recommendations for the best wines to pair with your meal.
Gift Ideas & Holidays
Need to bring a killer bottle of wine to your next festivus? Hello Vino has you covered with wine recommendations for every occasion and holiday.


Most wine apps are designed for uber enthusiasts and wine snobs.
Hello Vino is a free app for the rest of us.
Every day wine shoppers don't need another wine encyclopedia app.
They need a recommendation.
We've packed the best features from several apps into Hello Vino.
Now you only need one wine app for your next shopping trip.